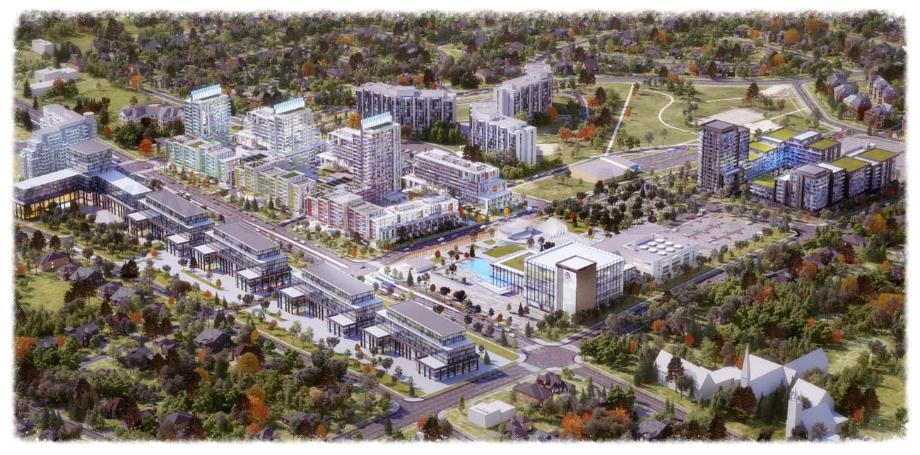 BAIF DON HEAD PLATINUM REGISTRATION
Baif Don Head - A master-planned community in Richmond Hill, Ontario
Baif Don Head is a master-planned mixed-use residential & commercial development located on four blocks by Yonge Street and Major Mackenzie Drive West in Richmond Hill, Ontario by Baif Developments Limited and designed by Hariri Pontarini Architects. This development site consists of mid-rise and high-rise buildings of 10 to 22 storeys in height as well as townhomes. There are 2,003 proposed residential units, retail, commercial and office uses.
The Baif Don Head community is located in the Town of Richmond Hill just north of the Hillcrest Shopping Mall. This area has been growing and was Canada's fastest growing community in the 1990's. The David Dunlap Observatory telescope is the largest in Canada and is situated here. "It is an affluent town with a large number of people employed in areas of business, finance, industry and healthcare."
This new development site is located close to schools, parks, restaurants and shops. The Mackenzie Richmond Hill Hospital is located close by as well as the Eagles Nest Golf Club, the Maple Downs Golf Course and the Summit Gold, the Richmond Hill Golf Club and Country Club. The Toronto Buttonville Municipal Airport is situated southeast of the site and there is also accessible public transportation with the Richmond Hill Go Station Rail close by.
Baif Don Head Condos is situated not too far from Highway 404, Highway 407 and Highway 7 making commuting around the Greater Toronto Area much easier. Canada's Wonderland is located west of the site as well as the Vaughan Mills Shopping Mall. The Pacific Mall that opens 365 days a year is located southeast of the site.
Register with us today for your VIP Platinum Access to the Baif Don Head on Yonge by Baif Developments Limited!
Register today for priority access!